Laser hair removal is one of the popular treatment people want today which gives you more confidence from choosing other methods of hair removal. 
For any laser hair removal to work it must target and destroy the melanin in the follicle. It does this by converting light wavelengths to heat. This heat damages the follicle, so it can no longer support regrowth. After a number of sessions, the follicle either cannot grow hair anymore, or it grows finer, lighter hair very sporadically.
We treat all skin tones on the Fitzpatrick scale and most hair types and the setting will be adjusted according to you skin and hair after your initial consultation and test patch has taken place. 
Areas treated for laser hair removal at Perfection Cosmetic.
Face, neck, jaws, ears
Arms, Hand, Fingers, abdomen, underarms
Shoulder blades, Chest, back, Nipples
Bikini / Brazilian / Hollywood, Buttocks, Peri-Anal
Feet, Toes, legs
Why a course of treatment is required?
In one single treatment, sixty to ninety percent of the hair in the anagen only stage of the hair growth cycle is successfully treated. This is why you need to have a course of treatments, to eventually reach the majority of the hair growth. 
Every person is different therefore everyone responds differently to the treatment. Some people notice a reduction after one treatment, however generally it is after the third or fourth treatment before you see a noticeable difference. Initially you will see the hair grows back slower and then you will see the hair growth coming back in patches.
Phases of hair growth in the hair growth cycle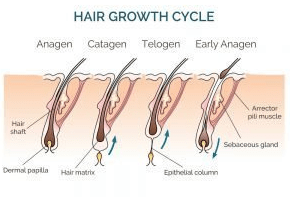 Why the SHR (Super Hair Removal) 
The laser we use is one of the best and latest technology on the market. The treatment is more pleasant than compared to other systems and your skin is better protected. You will experience a mild warm feeling as the light passes over the treatment area using the unique energy delivery method that effectively damages the hair follicle which prevents regrowth, while preventing injury to the surrounding tissue.  The super chilled hand piece cools the skin's surface preventing superficial burns and the sensation of pain.
This laser is ten times faster than most other lasers on the market. SHR mode gradually heats the skin and hair follicles meaning a large area can be treated all in one go which is virtually painfree.
Enquiry Now